Yamada Bee Farms is nestled in the town of Kagamino-cho, located in the Chugoku mountain range in the north of Okayama Prefecture. It is in this abundant nature where our business takes place to produce various honeys, royal jelly, propolis, and cosmetics made of royal jelly. From here, our health-contributing products are sent out to our customers.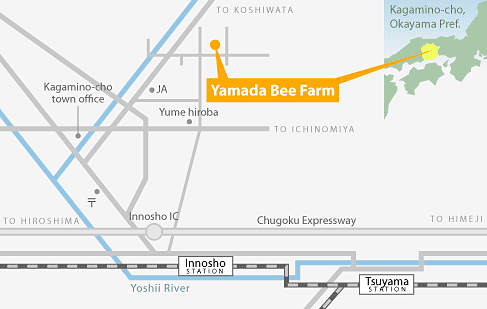 Details
Directions from JR Tsuyama station
• From JR Okayama station, take the JR Tsuyama line to JR Tsuyama station. Approximate travel time 1 hour 10 minutes.
Note: Please call for directions from Tsuyama station.
(Domestic) TEL: 0868-54-1971
Access by car
• Take the Chugoku expressway, exit at the Innosho interchange. Yamada Bee Farm is about 10 minutes from the interchange.
Postal Code 708-0393 Okayama Prefecture, Tomada-gun, Kagamino-cho, Ichiba 194
(Domestic) TEL: 0868-54-1971